Children's Entertainment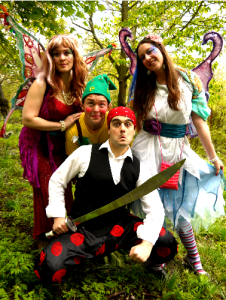 In a swirl of sparkles and a fluttering of wings  Felicity Fairy and her  Friends have flown into Sussex, Somerset and Dorset – direct from Fairyland! Armed with a bottle of wishing dust, bubble wands  and a gourmet selection of smelly socks, they are here to create a special day full of MAGIC!  Children who dreams of being a Faery Princess or Pirate Hero will love meeting Felicity Fairy and her Fairy & Pixie Friends.
Our enchanting Fairies, Pixies and Pirates are available for Weddings, Festivals, Fêtes, Workshops, Promotion Days, Christmas Events and of course,   the most special of days, your child's  Birthday Party!
Join us for:
**Theatrical Shows**   **Fairy Crafts and Pixie Games** **Storytelling**  **Treasure Hunts**  **Face-painting**  **Children's Circus Skills**  **And learn a REAL magic spell!**
Children's Birthday Parties
Felicity Fairy and her Pixie and Pirate crew travel all over Dorset, Somerset and Sussex to meet children on their special day.  Our parties are especially magical, beginning with a pantomime show that introduces a storyline and we ask the children to join in! With their help we set off on an adventure  through  games, crafts and activities to an exciting conclusion!  A party with Felicity Fairy is a delight from start to finish, ending with a crowning parade for the birthday child and all the children casting a REAL MAGIC SPELL!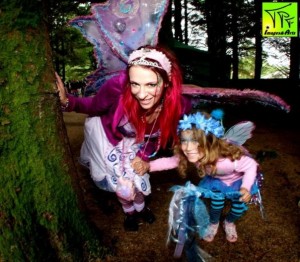 Mums and Dads – relax. On the big day we bring everything we need so  you can put your feet up!
Felicity Fairy has a fantastic selection of themes including:
The Enchanted Story Glade
FOR MORE DETAILS PLEASE VISIT OUR NEW SITE VIA THE LINK BELOW:

 FELICITY FAIRY on ph: 0777 922 0729
info@felicityfairyparties.co.uk
Festivals, Weddings, Christmas Parties and Other Special Events:
Tell us about your event and the atmosphere you'd like to create. With a wave of her magic wand Felicity Fairy can arrange all sorts of glittering entertainment.
We can send you Meet and Greet Characters, a Fairy Glade, Wishing Tree, Statue Performers and Stilt-Walkers straight from Fairyland! Santa's Elves can pop in to your Christmas Party and take a wish list back to the North Pole.
To keep the kids on their toes all day we also have a selection of  Fairy Shows, Games and Workshops. Some of our most popular include:
The Secret Garden Show and Craft Workshop   –  45mins long and for up to 30 children, ages 3 to 7
The  Tiger TamingShow  – 30mins long and for any sized audience featuring a performance of real circus-style hula hoop!
Treasure Hunting with Felicity and her Friends. Each child gets a prize to take home.
OR for something really SPECTACULAR:  Felicity Fairy on Aerial Trapeze, Silks  or Spanish Web. For an outdoor aerial show we have our own portable 6 meter high rig.
 We also do on stage comparing – for children's fashion shows, parades, dances… let us do the organising for you!
WE CAN ADD ENCHANTMENT TO YOUR SPECIAL EVENT! FOR MORE INFORMATION CALL FELICITY FAIRY on ph: 07779220729 or  hover over the Felicity Fairy tab at the top of the page and click 'Fests and Events' below.
"I have rarely seen child entertainers do a job as good as you do. You really live the part. Your whole team is marvellous, in fact. I sincerely hope we will be so lucky as to be part of your programmes again one day."                                                                                             
   Gig Gamaggio, of our week long Summer Workshops.
"When we first met Felicity all the little girls fell in love with her and everyone wanted her at their own party! Having been to three Felicity parties with the same group of girls I'm amazed that the magic still hasn't worn off and that each party was unique, mixed with a different blend of stories, music, games and crafts. Felicity's friend, Muddlehead the Pixie, brought a great touch of humour throughout. The highlight of my daughter's party was the fairy parade when all Lara's friends formed a fairy guard of honour and sang Happy Birthday to her as she walked through in a fairy procession – a wonderful end to a 5th birthday party to remember!"
Mrs Michelle Turner, Brighton.
Would you like a REAL Fairy, Pixie or Pirate at your child's birthday party?  Our magical hosts are available in :  Brighton, Hove, Crawley, Grinstead and  SUSSEX;  Poole, Bournemouth, Dorchester, Christchurch and DORSET;  Bristol, Bath, Taunton, Bridgewater Yeovil and SOMERSET; & Southampton, Portsmouth, Fareham, Eastleigh, Basingstoke, the New Forest and HAMPSHIRE.