Felicity Fairy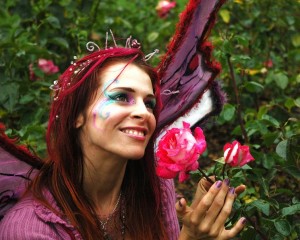 Felicity Fairy has been sent by the Fairy Queen to bring a big dusting of magic to special children on their birthdays. The Queen had heard that modern children don't believe in Elves, Pixies or Unicorns so she asked Felicity to take her fairy dust and bring some enchantment back into their lives!
Felicity has been hosting children's parties for over 15 years. She is also a professional trapeze artist and has travelled with several circuses! She currently hosts parties in Somerset but flies down to Sussex from time to time!
Trixie Pixie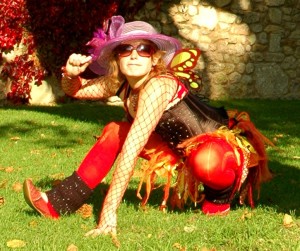 Trixie is a Pixie on a mission – to do 'People-land' research. This is a difficult task as being rather a little mischievous Trixie is constantly finding herself in trouble! Recently she had to be extracted feet-first from a red pillar postbox where she had got stuck. When asked by the local Constable why she upside down in there Trixie replied 'I want to know how people-mail flies faster than I do!'. The policeman put a first class stamp on Trixie's head and now she can zip from parties in Somerset to parties in Sussex in a day!
Willow Fairy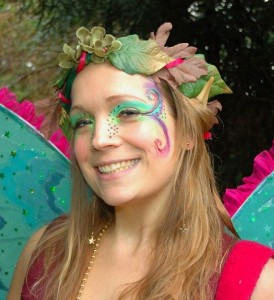 'I live in the trunk of a beautiful willow tree by the banks of a babbling brook' says Willow Fairy. 'The door to my house is hidden at the bottom of the tree trunk but when I blow fairy dust on it the door appears. Inside there is a spiral staircase carved out of the wood of the tree. It is very intricate with flowers, stars and swirls in the design. I have a friend called Woodchip the Pyksy and he carved it for me.'
Willow Fairy's special job in Fairyland is teaching the other fairies how to ride on the backs of butterflies, moths and birds. 'Bumble bees are very tricky to ride' says Willow Fairy 'and Woodchip is a bit naughty because he likes to chase them'. Oh dear! Woodchip be careful!