With Felicity Fairy and Friends
Does your child believe in magic?
Are they secretly a Fairy Princess or Pirate King? Do they have a pet dragon or unicorn living at the bottom of the garden? Then they will love a birthday party with Felicity Fairy and her magical Friends!
We have themes available to suit both birthday girls and boys. With an interactive storyline that draws children into a world of make believe, our parties are a unique combination of play acting, craft activities and favourite games that lead to the story's magical conclusion.  We'll even teach the children a REAL magic spell! Felicity Fairy parties last for two hours – with a break for tea – and as the grande finale – the birthday child's crowning parade!
We bring all the prizes, materials, music and a pass the parcel so on the big day you can put your feet up and relax.
Felicity Fairy is CRB checked and holds public liability insurance as a member of Equity.       For more information MAKE A WISH or call Felicity Fairy ph: 0777 922 0729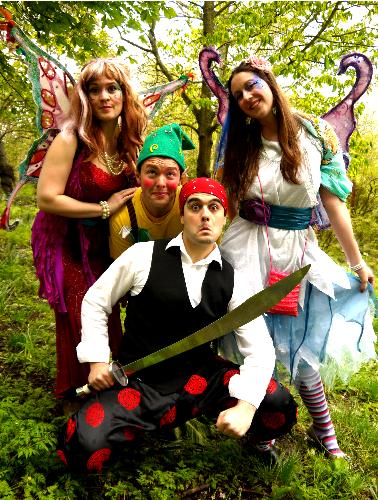 Our Fairies, Pixies and Pirates are available to bring magic to girls and boys all over Sussex, Somerset and Dorset
Our parties have several wonderful themes: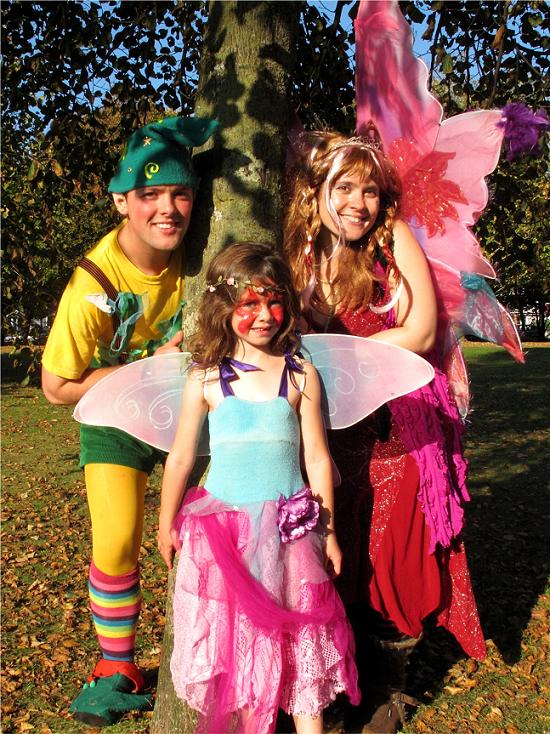 The Goblin Treasure Hunt
WITH TWO FAERY/PIXIE ENTERTAINERS
A real Fairy and Pixie have arrived at your party all the way from Fairyland, with  box full of glittering treasure… or so they thought.  It seems our poor Pixie has been outwitted by Goblins!  Can the children make magic wands and learn a spell to help save the day? This is our most popular party, it concludes with a wild Treasure Hunt and Goblin chase and of course the special crowning parade for the Birthday Star!                                                                                      This party is suitable for girls and boys aged 3-7 years
The Fairy Disco
WITH TWO FAERY/PIXIE ENTERTAINERS
It's party time in Fairyland and all the fairies, pixies, princesses and super-heroes are getting ready to go to the Fairy Disco. But our poor confused Pixie has lost their shoes. And how did those stinky socks get into the pass-the-parcel? The children enjoy jewellery or crown making before taking part in an exciting Disco with lots of games and prizes for everyone.
Pirates and Princesses
WITH TWO PIRATE/FAIRY ENTERTAINERS
This is the perfect party theme for boys or tom-boys who'd like to sail the seven seas! Join in the action on this swash buckling adventure as our Pirate searches for his lost treasure and his faithful sidekick Parrot (the carrot). Full of stories, games, craft activities and a piece of treasure for each child… we end this party with the Captain's Parade!
The Enchanted Story Glade
WITH ONE FAIRY/PIRATE/PIXIE ENTERTAINER
A magical party for real believers in the Fairy Kingdom. Sit with the Fairy, Pirate or Pixie sent by the Fae Queen herself to visit the birthday child! We'll have a good chat with all of the children about faeries at the bottom of the garden, mermaids, goblins, pirates and tell stories, host craft activities and games – and teach a REAL magic spell you can practise at home! We might even test it on a few grown-ups before the magical crowning parade finale!
This is a special intimate party where all the children get to talk to our entertainers personally. We cap the number at 15 children.
FOR MORE INFORMATION ABOUT ANY OF OUR PARTIES
MAKE A WISH and then call Felicity on: 07779220729
"Felicity and Muddlehead came to entertain at my daughter's 4th birthday party. Four months later my daughter still talks about them. They really brought some magic to the party. I will certainly ask them back for her fifth party. I don't think my daughter will have it any other way."
Liam Barnes, Hove
"Felicity and Muddlehead were the entertainment at my daughter's birthday party.  They were the best I've ever seen. I got lovely feedback from all the parents that attended and they couldn't believe how much their children enjoyed it."
Carmen Kristic, Rodmell