Shimmer Lilly Fairy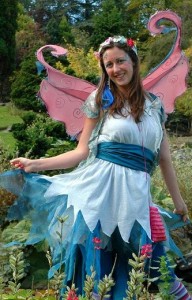 Shimmer Lilly lives in an enchanted toadstool and counts herself extra lucky that her job is being a Birthday Fairy visiting Birthday Princes and Princesses in Big-People-Land!
'My favourite food is fairy spice cakes. I sprinkle them with fairy dust, make a wish and then they taste like whatever food I've wished for! I love to hold tea parties with my friends at my toadstool. We play games and eat lots of fairy spice cakes!'
Shimmer Lilly studied theatre at Fairyland university but found more imagination in her classes of English language children. 'They never fail to surprise me with their creativity. I think us 'big people' have a lot to learn from them.'
 Luna Fairy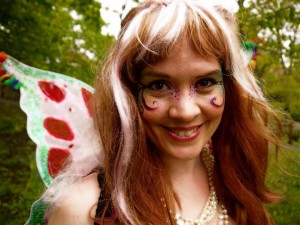 A birthday party with Luna Fairy really is a special occasion – especially as she has to fly so far to get there!
"I live on the moon, and enjoy sliding on moonbeams to visit my friends in fairy land, especially my best friend, the pixie. I love dancing and singing to the flowers (they sing back!) and eating sugar cakes."
Luna has enjoyed entertaining children for several years. She is also an amazing singing & dancing  Cabaret Fairy; and she acts with her improvised theatre group.
Tickles the Pixie
This is the loveable Tickles. He lives under a stone in the Enchanted Forest. He says 'When I was born I climbed out of an acorn. I like acorns.'
Tickles the Pixie is also very fond of a sport called bouncing.  ' Bouncing is where a big Giant picks me up and throws me as far as he can. I can bounce very far.'  Afterwards Tickles has a snack of mud on toast. 'But I recently tried something amazing called Birthday Cake'  says Tickles  'it was much nicer!'
Tickles has previously been teaching English to foreign speaking children and enjoys disguising himself as a stand up comedian in Brighton, People-land.
Angelina Sparkle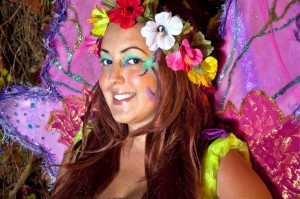 Our glittery Angelina Sparkle lives  in a little pink house made out of candy and decorated with all types of delicious sweeties like smarties and jelly tots.                                    She is the Fairies special ballgown and fashion designer and says " I love to make sparkly dresses for all my fairy friends to wear to fairy birthday parties and in fact I made this one that I am wearing myself. I love all things pink and I love to play fun games." Angelina used to teach children in a far-away magical place  called Thailand and  she calls on this experience to add extra warmth into her parties.