* Night Clubs and Cabaret * Festivals * Weddings * Corporate Events*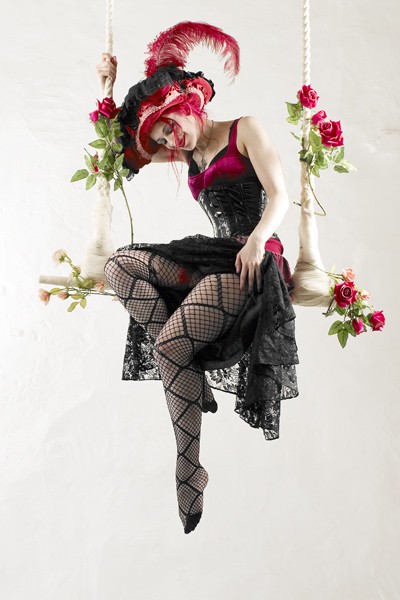 CIRQUE DES FEES PRODUCTIONS:
?Fire Dance and Angle Grinding displays
?Trapeze / Aerial Silk / Spanish Web Arts
?Stilt Walking Characters
?Living Statues
?Children's Entertainment
?Ceremony Creation
Amaze the crowd with one of our previously choreographed pieces or have us design a bespoke performance especially for your event!
Fire Dancing and Angle Grinding Displays
A whirling dervish in a blaze of flame, Felicity performs with fire fans, eating torches, fire hula hoop and her custom-built 10 wick fire wings. For a real exhibition add the glowing arc of sparks from duelling angle grinders. Our fire performances have included themes such as burlesque, tribal dance, ceremonial magic and the burning Phoenix. We can bring our own Fire Troupe or Felicity will choreograph a group performance with dancers at your event or festival.
Cirque Des Fées has public liability insurance for fire performance of up to £1,000,000.
Trapeze, Aerial and Spanish Web
Breathtaking in its dramatic drops and sensual contortions, aerial acrobatics is the art form of the sky. Having trained with professionals such as Jackie Welbourne (ex Cirque Du Soleil) our artists Felicity Fyr Le Fay, Haylee Mai Edwards and Hazel Maddocks inspire absolute awe in the air. Sassy characters or fantastical visions are brought to life on either the trapeze, aerial silks or the spinning Spanish Web.
Cirque Des Fées has a 6 meter high portable rig for outdoor events. This suits trapeze and silks only, and requires 10m x 7m grass expanse for set up. Please contact us for specs regarding indoor/stage rigging. Cirque Des Fées has public liability insurance with Equity.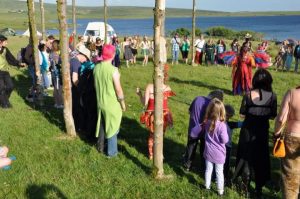 Ceremonies And Celebrations
Felicity Fyr Le Fay is experienced in officiating at special events including weddings, opening and closing ceremonies, sacred fire lighting and funerals. Pagan, Christian and non-religious faiths are all catered for. Sacred Light Workers Laura Daligan and Aria Amorosa may also be available to attend upon request.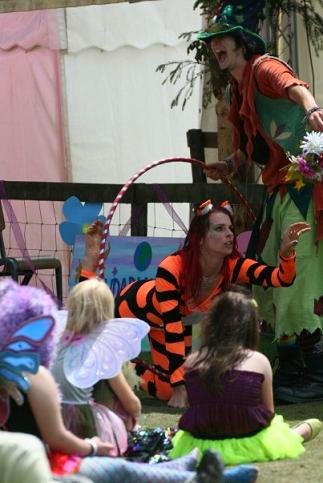 The Tiger Taming Show
Designed for street/festival performance, the Tiger Taming Show is a hilarious slapstick routine, featuring a finale of circus hula hoop! This battle of wits between a bumptious ringmaster and his mischievous 'trained' tiger will amuse young and old alike. The Tiger Taming Show is aprox 25 minutes long. It requires a music or PA system and a staging space of at least 3 x 5 meters.
For information about our current stilt walking and living statue characters drop us a line at:
felicity@cirquedesfees.com For details of our children's shows and family entertainment visit our official sister website: Felicity Fairy and Friends